Jordan Education Foundation Teacher Grants
Former JSD Board Member Janice Voorhies presented Principal Amy Adams with a check representing the total amount of money given to teachers in grant money for the 2020-2021 school year.  Teachers applied for the grants to fund supplies and projects from the Jordan Education Foundation.  Congratulations, Fox Hollow teachers!
Total Amount: $7,203.00 Thank you, Jordan Education Foundation!

6TH Grade Challenge Race
The Jordan Education Foundation sponsored a 5k obstacle course to raise money for District Schools on Saturday, May 11th. Fox Hollow's amazing 6th grade team represented our school.

RSL Honors Third Grade Teacher Ms. Moric
Real Salt Lake is supporting education this year in a big way.  The team offered grants to every teacher in Jordan School District, and Ms. Moric was selected to receive special honors for her work in the classroom with third grade children.  She was chosen for her extensive work in writing a grant to benefit students, her work in reading (nearly all her students are reading on benchmark), and for the kind way she supports social and emotional learning in her classroom.  The team mascot, Leo, helped present Ms. Moric's award, and each student in her class received a team shirt.  Congratulations, Ms. Moric!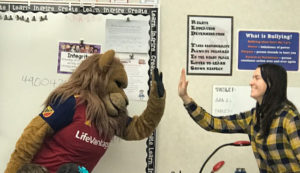 Kindergarten Students Celebrate 100 Days of School
On Wednesday, March 6, D track kindergarten students celebrated 100 days of school by sorting and organizing personal collections of objects, including pennies, candies, and Legos, among other things.  Administrators were presented with the same ties that students wore, boasting becoming "100 Days Smarter!"  Congratulations on all that accumulated wisdom and knowledge kindergarten students!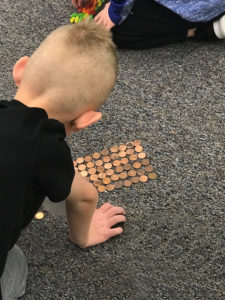 Fox Hollow Teachers Receive First Aid Training
January 14th was a no-school day for students, but our teachers were busy learning how to apply tourniquets in the event of an emergency in the school. South Jordan and Unified Fire Departments presented the training. Part of the day, teachers received updated training on using Google Classroom and advanced strategies for teaching students who are English language learners.
"Superbowl of Change" Wars
This year's change wars will take place from January 15 - February 1st. The proceeds will benefit the Jordan District Principals' Pantry.
Classroom Emergency Kits
Fox Hollow would like to extend a HUGE thank you to Andrew Christensen for collecting, making and donating these great kits to each classroom. We appreciate your hard work Andrew!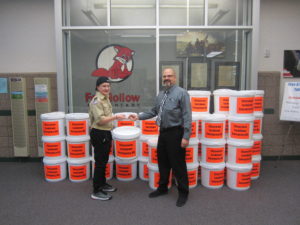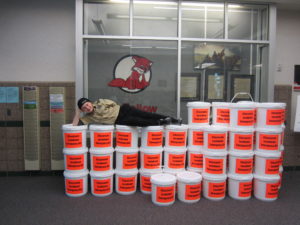 ---
Change Wars!!
Congratulations Fox Hollow Red Tails!  Student Council sponsored the Change Wars this last week raising $687.06 in only 5 days from our Super BOWL of Change Wars.  This benefits the Principal's Pantry for our community. Way to Go Fox Hollow Red Tails!
---
PTA FUN RUN A MAJOR SUCCESS!!
Thank you to each and every family that helped make the PTA Fun Run this year a success! The Fun Run was our most successful fundraiser yet! Mr. Pullan paid up on his end of the deal and spent the day working on the roof.
---